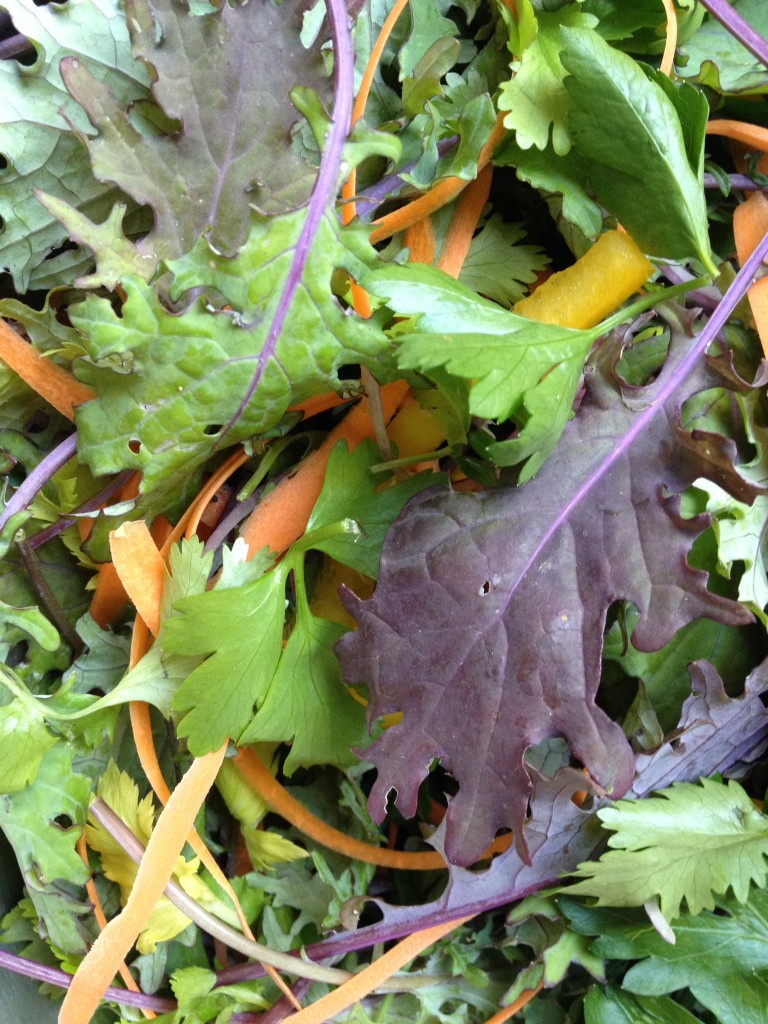 I love filling my basket with bunches of herbs and every green leafy vegetable at the farmer's market! "A primer for washing fresh greens."
Fill a large bowl with lukewarm water and plunge (each type of greens separately) into it and let stand for five minutes.
With your hands, lift out the greens and place them in a colander.
Discard the sandy water and rinse out the bowl.
Refill the bowl with fresh cold water and plunge greens into it and gently swish them in the water.
Once again lift greens out and place leaves in a salad spinner basket, shake off excess water, and spin dry. If sand is in the bottom of the spinner, rinse them again!
Unroll a layer on paper towels on the counter, arrange leaves in a single layer on towels and roll the greens with paper towel up as if you were rolling a beach towel, and place the roll in a plastic bag.
Refrigerate until serving time. They will keep for about one week.
Baby kale salad with spicy peanut sauce is delicious on it's own or add a grilled chicken breast on top as the main course for a light supper. Bon appétit!
Serves Four
For the spicy Peanut sauce: about one and three-quarters cup:
1/2 teaspoon red pepper flakes
1/2 cup peanut oil
1/2 stalk lemon grass, thinly sliced (ends trimmed, tough outer leaves removed and tender heart of bulb sliced)
1/2 inch piece peeled fresh ginger, thinly sliced
3 tablespoons rice wine vinegar
2 tablespoons sugar
2 teaspoons Asian fish sauce (Nuoc nam) or more to taste
1 large glove garlic, peeled and sliced
1 kaffir lime leaf
3/4 cup salted roasted peanuts
1/4 to 3/4 cup hot water
For the salad:
6 cups baby kale, washed and spun dry
1 small red onion, thinly sliced
1/2 large yellow bell pepper, cored and seeded and thinly sliced
1 carrots peeled and shredded lengthwise or cut into very thin long strips
About 1/2 cup flat leaf parsley leaves
About 1/3 cup celery leaves
1/2 cup fresh cilantro leaves (or flat leaf parsley or celery leaves)
To prepare peanut sauce:
In a medium sauté pan over moderate high heat, toast red pepper flakes until dry and fragrant, about two minutes. Add peanut oil, lemon grass and ginger and cook for five minutes. Add vinegar, sugar, fish sauce, reduce the heat and simmer for two minutes. Add garlic, lime leaf, and all but two or three tablespoons of the peanuts and simmer for five minutes longer. Remove the lime leaf and transfer to a blender and puree until finely chopped, through the feeding tube, gradually add water until the sauce is smooth and creamy. Transfer the sauce to a clean glass jar, cover, and refrigerate. Chop the peanuts and store in zip lock bag until serving time.
For assembly:
In a large salad bowl, toss kale, onion, pepper, carrot, and herbs together until mixed. Drizzle just enough peanut sauce over the salad and mix until leaves are coated. Scatter chopped peanuts on top and pass remaining sauce at the table.