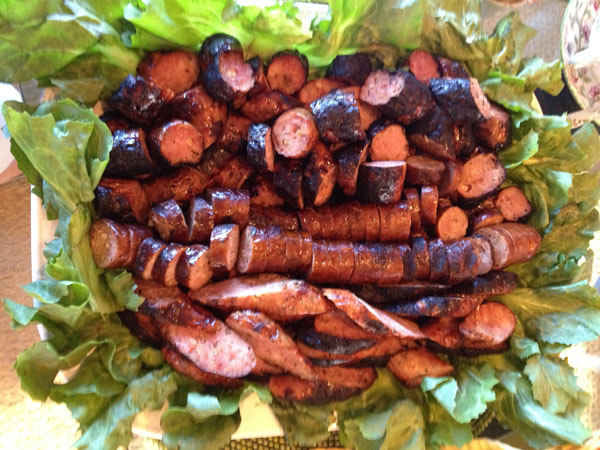 Why not invite some friends over for dinner to relax and enjoy a Labor Day Dinner together before getting back to your regular routine?
For starters, pick up fresh clams or oysters from the local fish market and serve them on the half shell with lemon and hot sauce as the first course.
Grilled tasty Chicken and Apple sausages plus spicy Andouille sausages with a hot mustard sauce for dipping is the main headliner accompanied by Pasta (Fusilli) with Pesto Salad with peppers, olives, kale and pine nuts.
Complete the menu with a tossed green salad with mustard vinaigrette plus a platter of sliced heirloom tomatoes and red onions garnished with roasted artichoke hearts and hot crusty bread. Follow up with ice-cold watermelon wedges garnished with chopped fresh mint and cookies & chocolates for the finale. Bon appetit!
Serves six to eight
3 or 4 (12 ounce@) packages of Bruce Aidell's Chicken and Apple sausages
2 or 3 cans beer, as needed
1 whole head of garlic, unpeeled, cloves separated
1 (3/4 pound package) D'Artagnan Andouille Cajun-Style sausages
For the mustard sauce:
1/2 cup Dijon mustard
1/4 cup grainy mustard
1/2 teaspoon dry hot mustard
1 teaspoon red wine vinegar, or more to taste
Extra virgin olive oil for consistency
Escarole for garnish
To prepare:
In a large pot over high heat, add the chicken and apple sausages, add enough beer to completely cover the sausages. Add garlic cloves, cover the pot, and bring to a boil. Reduce the heat and simmer for twenty to twenty-five minutes. Remove from heat; bring to room temperature, and drain well. Discard the cooking water and reserve the garlic cloves for another use. Can be done ahead and refrigerated.
Meanwhile, in a mixing bowl, whisk the Dijon, grainy, and dry mustards together with the vinegar and oil. Taste and adjust the seasonings. Transfer to a clean glass jar and refrigerate. Can be done up to two weeks ahead.
To grill and serve, preheat the grill until hot. Cut diagonal slits every so often, through the skin of the Andouille sausages. Place both Andouille and pre-cooked chicken and apple sausages on the grid and cook, turning each sausage until the skins are dark brown and crisp or done according to personal preference. The cooking time will depend on the temperature of the grill. Transfer sausages to a cutting board and tent with foil to keep warm.
Just before serving, cut the sausages into bite-sized pieces and arrange on a platter. Garnish with fresh escarole and serve with mustard sauce. Can be served hot or room temperature.
Related Recipes