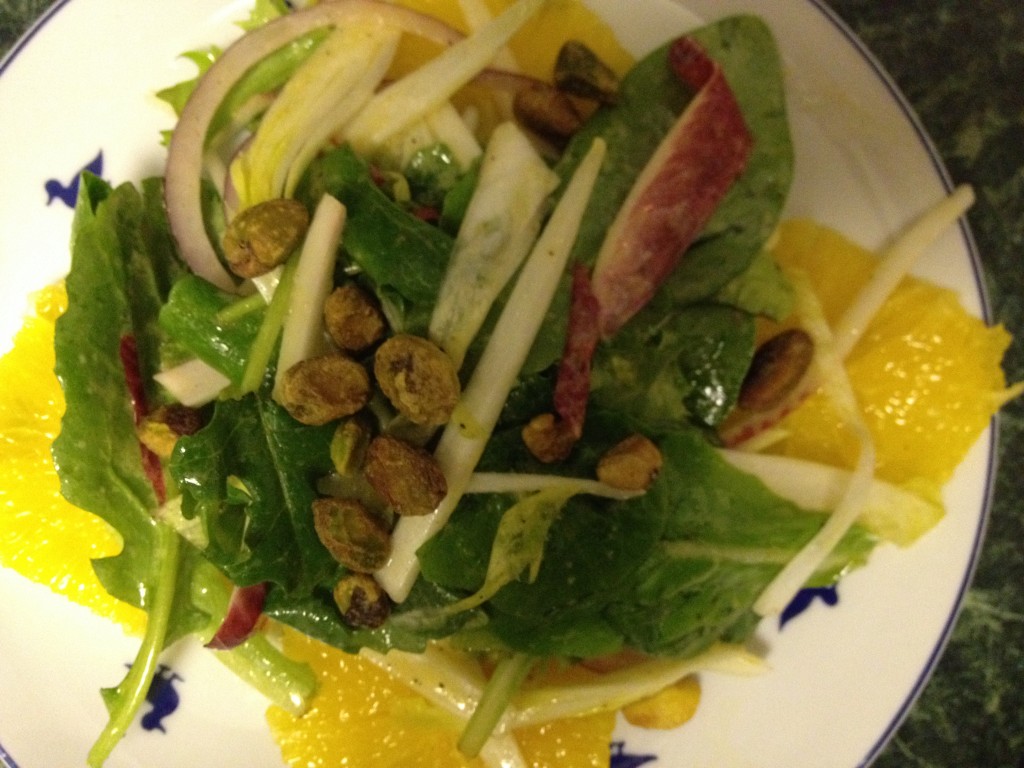 The mustard plant is a member of the same botanical family as broccoli, Brussels sprouts, kale, collards, and kohlrabi. For centuries a mustard plaster has been used as a remedy for chest colds. The culinary use involves two types of mustard; white (yellow) which is mild and used in most prepared mustard today and brown (Asian) that's quite pungent and mostly in seed form.
Mustard is the base on which to build a salad dressing or vinaigrette. Mustard adds just the right amount of "spice" to main dishes and it is a delicious addition to marinades for fish or as a paste on meats. My "go to" mustard is Dijon (Grey Poupon) but you can substitute your favorite brand in these recipes. Bon appétit!
BELGIUM ENDIVE WITH ORANGES, BABY KALE AND SPINACH WITH MUSTARD VINAIGRETTE
Serves four
2 Belgium Endives – red and/or white
Juice of one lemon
2 large seedless navel oranges, peeled and sliced
1 tablespoon fig infused white balsamic vinegar
1 tablespoon Dijon mustard
Sea salt and freshly ground black pepper to taste
About 1/3 cup extra virgin olive oil
4 cups baby kale, spinach & other baby greens, washed and spun dry
About 12 thin slices of red onion
About 1/4 cup pistachios, roasted and salted
To prepare:
Rinse and drain endive, julienne into ribbons, toss it with lemon juice, and reserve. Using a serrated edge knife, remove rind and pith from the oranges and cut into thin round slices, and reserve.
In a small mixing bowl, whisk vinegar and mustard together, season with pepper to taste. Slowly whisk in the olive oil until an emulsion is formed. Taste and adjust the seasonings. Reserve for later. Can be done ahead of time.
For the assembly; Place the salad greens and red onion in a mixing bowl. Pour the lemon juice off the endive and the juices accumulated in the bottom of the dish with oranges and whisk the juices into the dressing. Mix the greens/onion and endive together. Drizzle just enough dressing over the salad until it glistens and toss well. Arrange orange slices on four salad plates, mound the salad in the center and top with pistachios. Pass extra dressing at the table.
SEE RELATED RECIPES: