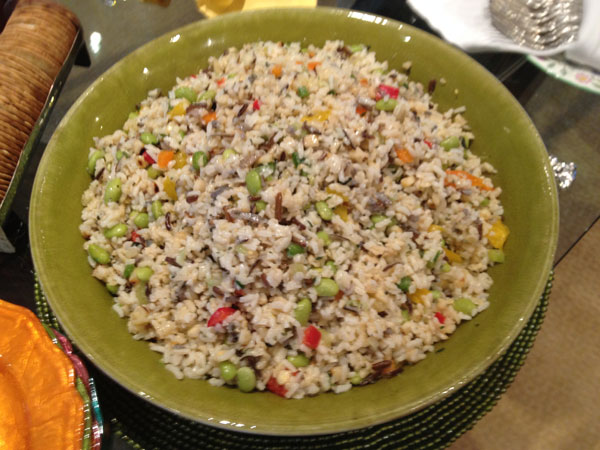 August 2014 summer entertaining….
Buffet dinner parties make summer entertaining very easy. The filet of beef and rice salad recipes are perfect together for the main course; add in a grilled fish, green salad and a platter of cheeses with artisan breads to round out the menu.
When making the rice salad recipe don't leave out the recommended amounts of lemon zest, minced crystalized ginger, and salt because they are important it's the great flavor! Bon appetit!
Serves eight to ten
1/2 cup wild rice
1 cup long grain brown rice
1 cup Jasmine rice
1 large onion, chopped
Sea salt and freshly ground black pepper
Chopped fresh parsley to taste
About 5 1/2 cups chicken stock, boiling
About 3 tablespoons white balsamic vinegar
For the dressing:
2 tablespoons Dijon mustard
1 tablespoon white balsamic vinegar
2 tablespoons rice wine vinegar
2 lemons, zest grated and juiced
1/2 to 2/3 cup extra virgin olive oil
Salt (at least 1 teaspoon) and freshly ground black pepper, or more to taste
For the salad:
1 bunch scallions, trimmed and sliced
2 stalks celery with leaves, diced
1/2 red bell pepper, diced
1/2 green bell pepper, diced
1/2 yellow bell pepper, diced
1 cup shelled edamame, cooked (defrosted if frozen) well drained
1/3 cup minced crystalized ginger, or more to taste
1 bunch Thai basil, chopped
To prepare:
One day ahead, in a medium saucepan over high heat, add wild rice, cover with about two to two and one-half inches of cold water, and bring to a boil.
Reduce the heat and simmer until the rice is tender, about thirty minutes. Transfer the rice to a strainer and drain well. Set aside.
Meanwhile, preheat the oven to 375 degrees F. In a medium casserole over moderate high heat, coat the bottom with olive oil; add half of the chopped onion and sauté until soft and translucent. Stir in parsley, salt, and pepper, brown rice, and sauté until rice glistens. Add two and one-half cups hot chicken stock, stir well and bring to a boil. Cover and bake until all the liquid is absorbed and the rice is tender, about twenty-five minutes. Remove lid and cool on wire rack for twenty minutes.
Cook the jasmine rice in another medium casserole dish using the same method as the brown rice, using the remaining chopped onion and two cups of hot stock or according to directions on side of the box.
Transfer cooked rice to a large mixing bowl and working with a large spoon, gently toss the rice together, sprinkle with white balsamic vinegar and set aside.
Meanwhile, in a small mixing bowl, whisk mustard, vinegars, lemon zest and juice together until blended. Whisking continuously, slowly add the oil in a thin stream until the mixture becomes thickened. Taste and season with salt and pepper.
Pour only enough dressing on the rice to make it glisten and toss well.
Add chopped scallions, celery, and bell peppers, edamame, crystalized ginger, and Thai basil and with two forks, toss to blend. Taste and adjust the seasonings. Cover with plastic wrap, and refrigerate at least one day.
Just before serving, taste again and adjust the seasonings.
Related Recipes