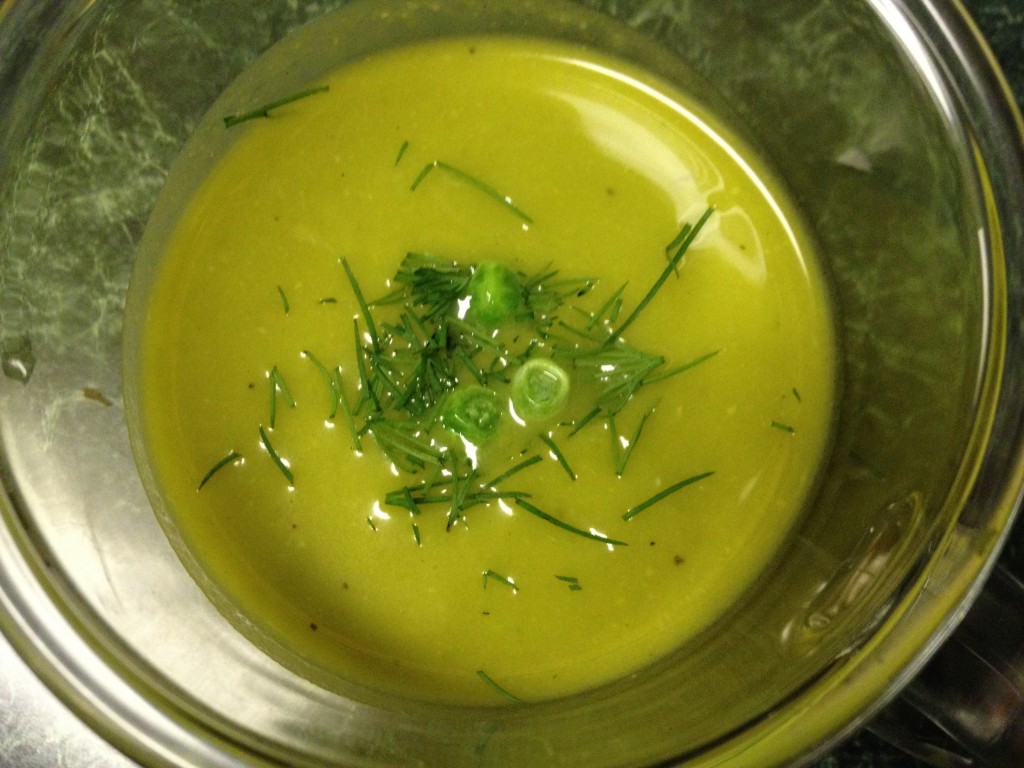 May is filled with celebrations of graduations, engagements, and bridal showers.
Given that dill has been thought of as a "good luck" symbol for thousands of years, I've used fresh dill leaves in the soup and dill seeds in the mini rolls for such a time as these.
The soup and lemon curd need to be made ahead (we all love to hear that!) Make the pea soup at least two days ahead to allow the fresh clean flavors a chance to "bloom." Having a batch of classic lemon curd in the refrigerator is like money in the bank. Add it to unsweetened whipped cream for an instant "mousse", use it to fill a baked tart shell or meringue and top it with crème fraiche or whipped cream another time. Blackberries folded into the mousse is an elegant light spring dessert to serve with cookies. Bon appétit!
Serves eight as first course or twelve to fifteen as hors d'oeuvres
Canola or olive oil for sautéing
3 leeks, white part only, chopped
1 medium yellow onion, chopped
3 stalks celery, chopped
2 carrots, peeled and chopped
Sea salt and freshly ground black pepper to taste
About 2 teaspoons thyme
3, one-pound bags frozen early harvest extra fancy petit pois, defrosted
2 to 3 quarts good quality chicken stock or more if necessary, boiling
Lemon juice for enhancing
Chopped fresh dill and 1/2 cup defrosted peas for garnish
Optional: sour cream for garnish
To prepare:
In a large stockpot over moderate heat, coat the bottom with olive oil. Add leeks and onion, sauté until beginning to soften, two minutes. Add celery, carrots, salt and pepper, and thyme and sauté about four to five minutes until aromatic. Stir in peas and sauté briefly, add enough stock to completely cover the peas by two or three inches. Cover and bring to a boil, then reduce the heat and simmer until all the vegetables are very tender about twenty-five minutes. Let cool about twenty minutes, then with an emersion blender, puree the soup until completely blended. Run the soup through a wire strainer for even consistency. Taste and adjust the seasonings. If it is too thin, return the soup to the heat and simmer until thickened. Conversely if too thick, add stock.
Bring to room temperature and then refrigerate overnight or up to three days. Stir well, taste again and adjust the seasonings with lemon juice if needed.
To serve whisk the soup, ladle into bowls or small cups, top with a pinch of dill and two or three peas. Or add a dollop of sour cream if desired.
Related Recipes: