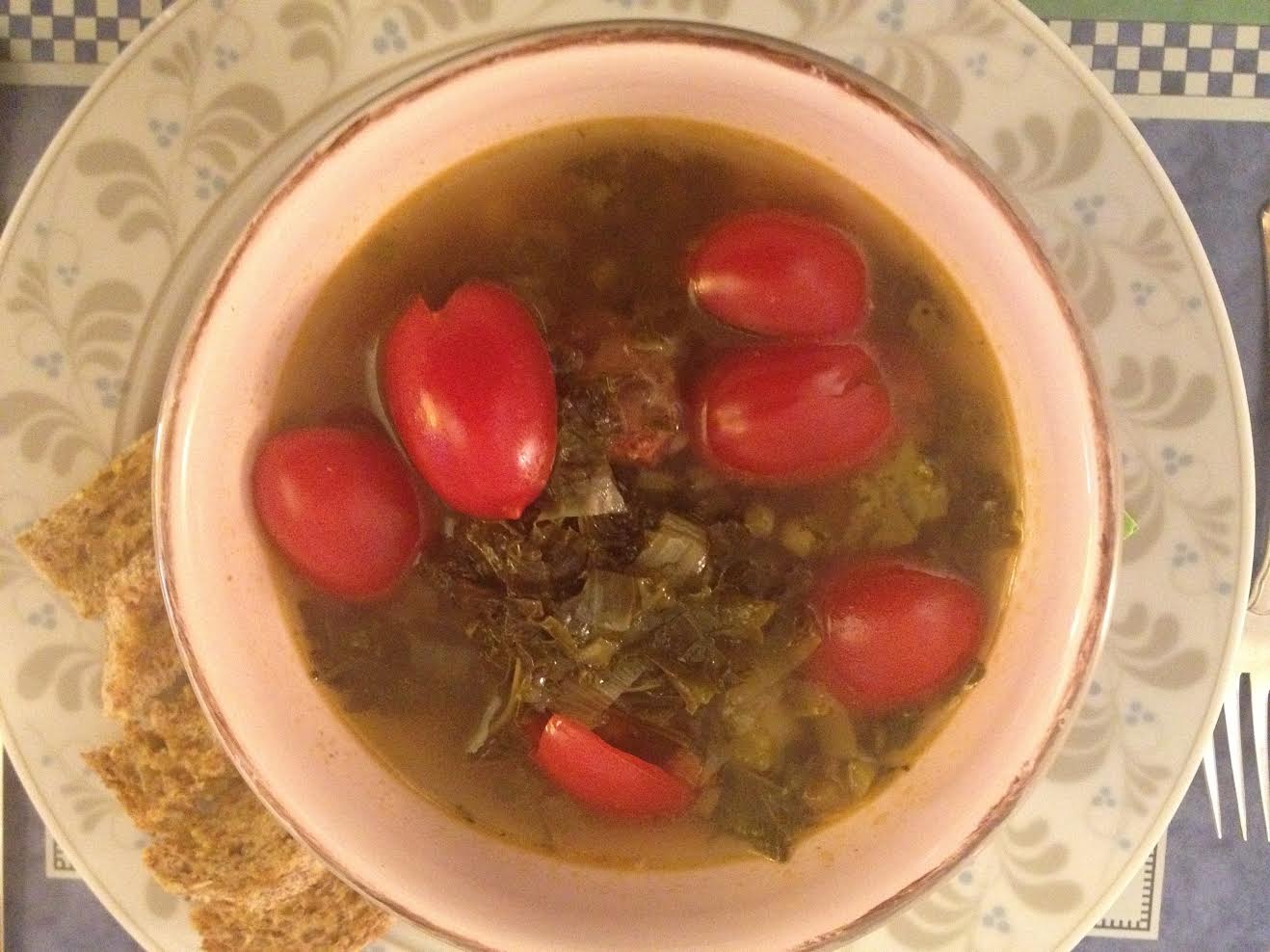 Most likely you're a veteran soup maker, but in the case you'd like to elevate your repertoire from good to extraordinary tasting using the same ingredients, here are a few tips.
First, sauté the protein (beef, sausage, pork, chicken, turkey, etc.) in it's own fat or a small amount or oil then set browned meat on paper towels and drain off excess fat but don't wash the pot before proceeding.
Second, sauté the aromatics (onion, leeks, shallots, garlic, etc.) in the pot, adding a little oil if necessary) using moderate to low heat until the onions are soft and translucent.
Third, add the vegetables beginning with the root vegetables (carrots, parsnips, turnips, etc.) then remaining vegetables and herbs, sautéing until the herbs are aromatic.
Fourth, add good quality stock (or doctored stock) for a depth of flavor.
Classic French onion soup is the perfect to serve as a starter for a sit down dinner party. To keep it elegant, use small soup bowls, cut cheese topped croute into small rectangles and place them on the serving plate next to the bowl. (So guests can add croute to the soup or not.) As the main attraction for casual supper or lunch, serve soup in larger soup bowls and float the toasts on the top just before serving and add a light green salad to complete the menu.
The rustic texture of kale and sausage soup is from the vegetables and sausages, while the seasoning in the sausages gives it a robust flavor in every bite. Offer a green salad, crusty sprouted whole grain bread, and a cheese platter with fresh fruit for the sides. Bon soup appetit!
CLASSIC FRENCH ONION SOUP
Serves six
About 3 tablespoons canola oil
1 tablespoon unsalted butter or more if needed
2 1/2 pounds white onions, peeled and thinly sliced
Kosher salt to taste
About 1/4 teaspoon sugar
2 tablespoons flour
2 1/2 quarts beef stock* – good quality "doctored" with following:

(*1 carrot, 1 stalk celery, 1 small onion all finely diced, 4 sprigs parsley, 1 small bay leaf, 2 sprigs thyme, and 1 cup full-bodied red wine, simmered with beef stock for thirty minutes and strained before adding to soup)

1/2 cup dry vermouth
Freshly ground black pepper to taste
Optional:
Croute Au Fromage:
French Bread, cut into 3/4 to 1-inch thick slices
Olive oil for brushing
1 large clove garlic cut in half
About 1 cup freshly grated Gruyere or Swiss cheese
To prepare:
To "doctor" beef stock: In a large saucepan over moderate high heat, simmer beef stock with carrot, celery, onion, herbs and wine for thirty minutes. Strain out the solids and reserve the stock. Can be done ahead.
For the soup: In a large non-reactive skillet over low heat, add oil and butter and when the foam subsides, add onions and salt and sauté, stirring frequently until the onions are nearly done. Sprinkle sugar over the onions, stir well and continue cooking until they are golden brown, about forty minutes total. Scatter flour over the onions and cook, stirring constantly, for four to five minutes longer.
Transfer the onions to a stockpot; add doctored beef stock and vermouth. Stir well and set pot over moderate heat, cover, and bring to a boil.
REDUCE the heat and simmer soup thirty to forty minutes. Every now-and-then skim off any film that forms on top of the soup, taste, and adjust the seasonings. Can be done ahead, bring to room temperature, cover the pot, and refrigerate overnight.
To serve:
Reheat the soup over low heat until it is simmering slowly.
For croutes:
Preheat the oven to 325 degrees F. Place sliced bread on baking sheet and bake in oven until light brown, about fifteen minutes. With a pastry brush, lightly coat each side with oil and rub each slice with cut side of the garlic. Return bread to the oven and bake until crisp/crunchy, about fifteen minutes longer. Can be done ahead. Just before serving, sprinkle grated cheese on toasts and place them under the broiler until the cheese is bubbly and lightly browned, watch carefully.
Ladle soup into warmed soup bowls and top with rounds of melted cheese toasts.
KALE AND SAUSAGE SOUP WITH LEEKS, ONION, AND PARSNIPS
Serves six to eight
4 ounces Chorizo sausages, cut into small dice
12 ounces chicken and apple sausages, sliced
Olive oil as needed
1 large leek, white and light green part only
1 medium yellow onion, chopped
2 cloves garlic, minced
3 small parsnips, peeled and diced
5 medium carrots, peeled and diced
6, three-inch celery stalk tops with leaves
Sea salt to taste
About 3 quarts good quality chicken stock, boiling
1 large bunch kale, washed, tough stems removed, leaves roughly chopped
Grape tomatoes cut in half for garnish
To prepare:
In a large stockpot over moderate heat, add chorizo and sausages and sauté until crisp and brown, using a slotted spoon, transfer sausages to a plate.
Pour off excess fat and discard, but leave browned pieces in the bottom. Reduce the heat; add a thin layer of oil to pan, sauté leeks, onion, and garlic until softened, stirring frequently.
Add parsnips, carrots, and celery, season with salt and sauté about four minutes.Return sausages to the pot, add half the kale, and enough stock to completely cover the sausages and vegetables by one and one-half inch, stir well, cover and bring to a boil. Reduce the heat and simmer until vegetables are tender and kale is wilted, about twenty minutes. Can be done ahead.
Before serving, reheat soup until simmering, add remaining kale and bring to a boil. Simmer until the kale is tender, about ten minutes. Ladle into warm soup bowls, garnish with tomatoes, and serve at once.