Here are three festive vegetable side dishes to serve at a Christmas dinner party or for dinner during the week.
Broccolini is sweeter than broccoli rabe, the secret to this recipe with only three ingredients is blanching the Broccolini before sautéing it with garlic. This spectacular vegetable side works well with roast beef or pork and duck as the main course.
If you are serving a ham or turkey for dinner, these delicious collard greens are an ideal vegetable and the entire dish can be done ahead and reheated in the microwave oven.
Holiday colors of red, white, and green come together beautifully in the roasted fennel and red bell peppers with blanched petit pois. The delicate flavor combination tastes great with fish and/or fowl. Use the same herb to coordinate the flavor of vegetables and main course for this meal.
Bon appetit!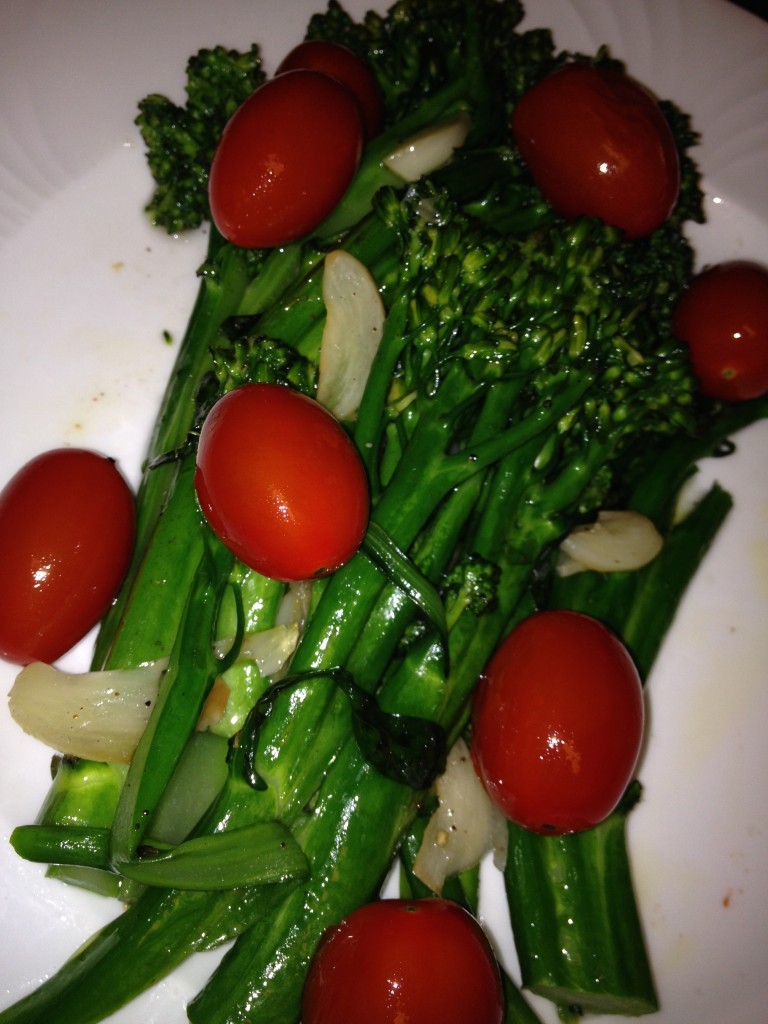 SAUTEED BROCCOLINI, GARLIC, AND GRAPE TOMATOES
Serves four
1 bunch Broccolini, washed
2 to 3 tablespoons, Avocado oil
3 large cloves garlic, thinly sliced
Sea salt and freshly ground pepper to taste
8 to 10 grape tomatoes, washed
To prepare:
Trim ends of the stems of Broccolini, if thick, cut the stems in half, leaving the tops intact. In a large pot of boiling salted water, blanch the Broccolini until crunch tender, transfer to a strainer and run under cold running water to stop the cooking process, and drain well.
In a skillet or saucepan over moderate high heat, coat the bottom with oil, sauté the garlic slices until they are soft and translucent and light brown on the edges, about two to three minutes. Add drained Broccolini, salt and pepper, and sauté until hot, stirring constantly adding more oil if necessary, about five minutes. Transfer to serving platter and keep hot. Immediately add tomatoes to the hot pan and sauté until the skins blister, about one minute. Arrange tomatoes around the Broccolini and serve at once.
Perfect for a steak or roast beef.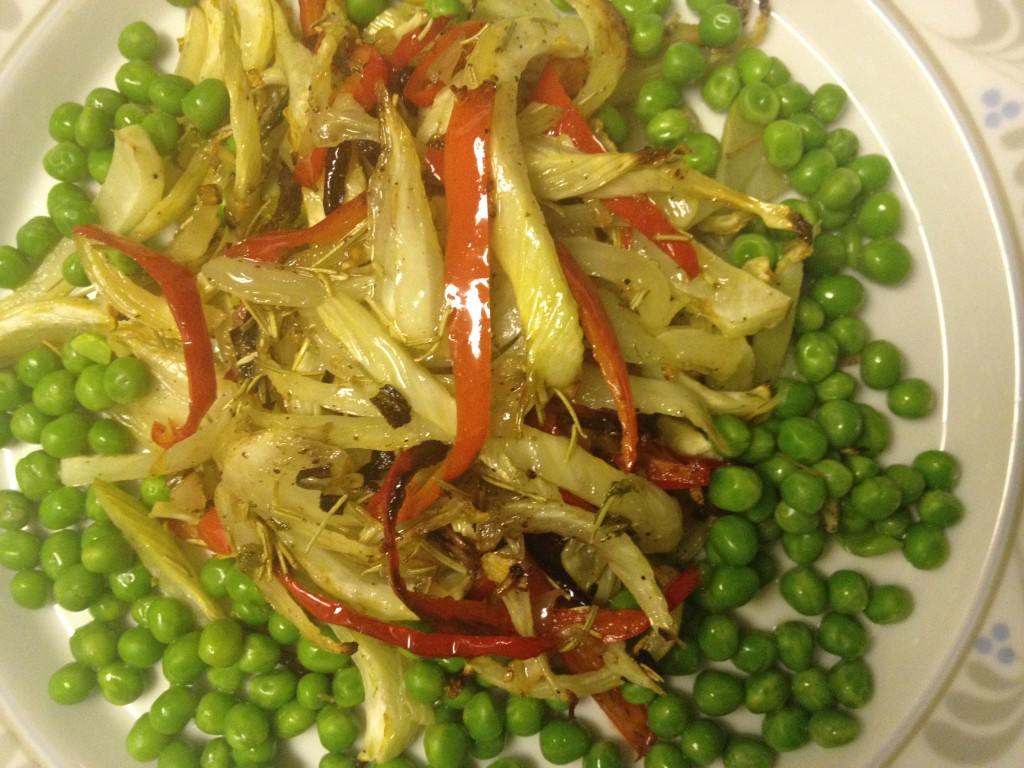 ROASTED FENNEL WITH RED BELL PEPPERS AND
PETIT POIS
Serves six
1 large head fennel, trimmed and thinly sliced
About 2 tablespoons extra virgin olive oil
About 2 teaspoons fresh rosemary, roughly chopped
Sea salt and freshly ground black pepper to taste
2 to 3 large shallots, finely chopped
2 firm medium red bell peppers, cored and seeded, thinly sliced
1 1/2 cups extra fancy petit pois, defrosted and blanched
To prepare:
Preheat the oven to 425 degrees F. Line two baking sheets with parchment paper.
Trim fronts and cut off the bottom of fennel bulb and cut it into thin slices. Transfer slices to a bowl, drizzle with oil until it glistens, sprinkle with rosemary, salt, and pepper and mix well. Arrange fennel slices in single layer on the prepared pan and roast, stirring every now and then, until brown and tender to the point of a fork, about ten minutes.
Wash; remove core and seeds from bell peppers, cut into thin lengthwise strips. Place in bowl, drizzle with oil and season with rosemary, salt and pepper. Then arrange in single layer on prepared pan. Scatter shallots over the peppers adding oil if necessary and roast, stirring every now and then, until peppers are brown on the edges and tender to the point of a fork, about seven to eight minutes.
Transfer roasted vegetables to a wire rack set over a pan to catch the excess oil. Arrange fennel and peppers on a microwave-safe platter cover with plastic wrap and set aside. Can be done ahead and reheated.
Just before serving, place vegetable platter in microwave and reheat just until hot and steamy, about two to three minutes. The reheating time will depend on the temperature and amount of vegetables. Meanwhile, blanch petit pois in boiling water about two minutes, arrange peas around the edge of the platter and serve at once.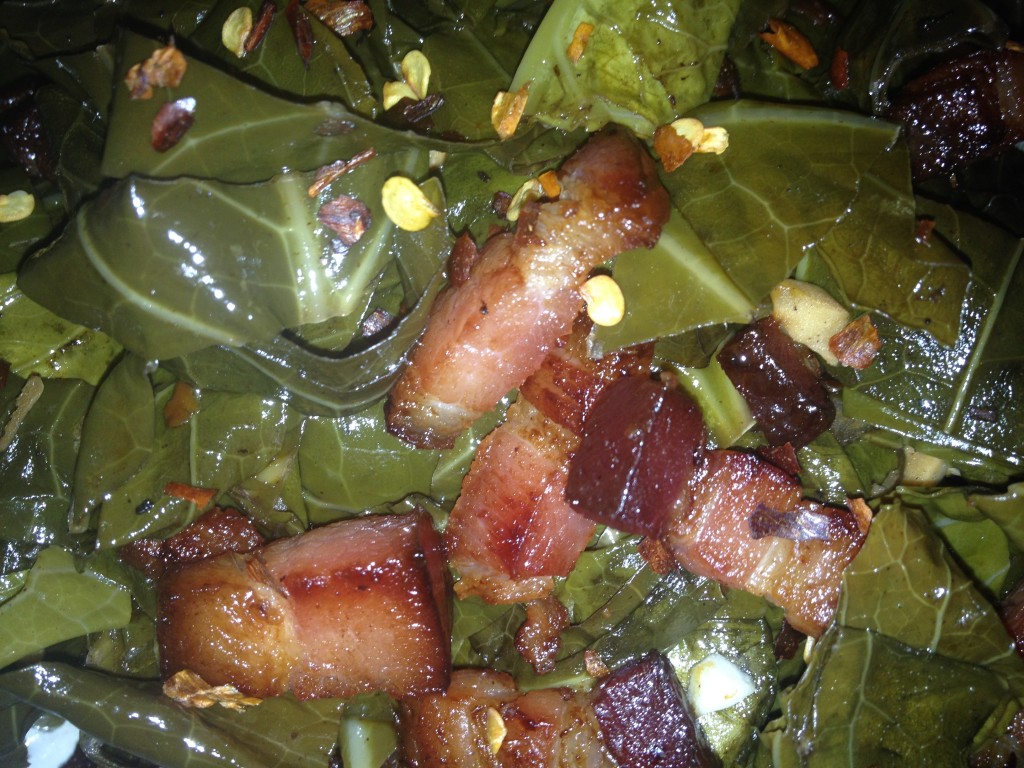 MJ'S COLLARD GREENS FOR THE HOLIDAYS
Serves six
2 1/2 pounds (3 bunches) collard greens, washed and tough stems removed
4 to 6 ounces pancetta, cut into 1/2-inch thick lardoons (or thick sliced bacon)
6 large cloves garlic, chopped
About 1/4 teaspoon red pepper flakes or more to taste
1/2 to 1 cup good quality chicken stock
About 1/3 cup good quality balsamic vinegar
Sea salt and freshly ground black pepper to taste
Crushed red pepper flakes
To prepare:
Wash collards in warm water and drain well, then wash again to remove sand. Fold the leaves in half, remove the center stalks, and stack the folded leaves and roll as if a cigar. Using a sharp knife cut the collards into one-half inch ribbons. Can be done ahead, placed in a plastic bag, and refrigerated.
In a large heavy casserole/Dutch oven over moderate high heat, sauté pancetta until brown and crispy, with a slotted spoon transfer pancetta to a paper towel lined plate and reserve. In the same pan, add garlic and pepper flakes, and briefly sauté. Stir in half the collards, sauté briefly, add stock and vinegar, cover and cook for five minutes. Add remaining collards and bring to a boil (adding more stock if necessary.) Reduce the heat and simmer until the greens are tender, about twenty to thirty minutes. Season to taste with salt and pepper. Add reserved pancetta, toss to blend, and then sprinkle with red pepper flakes and serve at once.
Can be done ahead and reheated in the microwave oven. Serve ham or turkey with these