One of my favorite fall foods from the farm stands are apples.
Although I'm partial to a classic French apple tart, this rustic free form tart with a crumbly cookie style crust takes all the stress out of making an apple tart… It might become your favorite tart to serve this fall.
Bon appetit!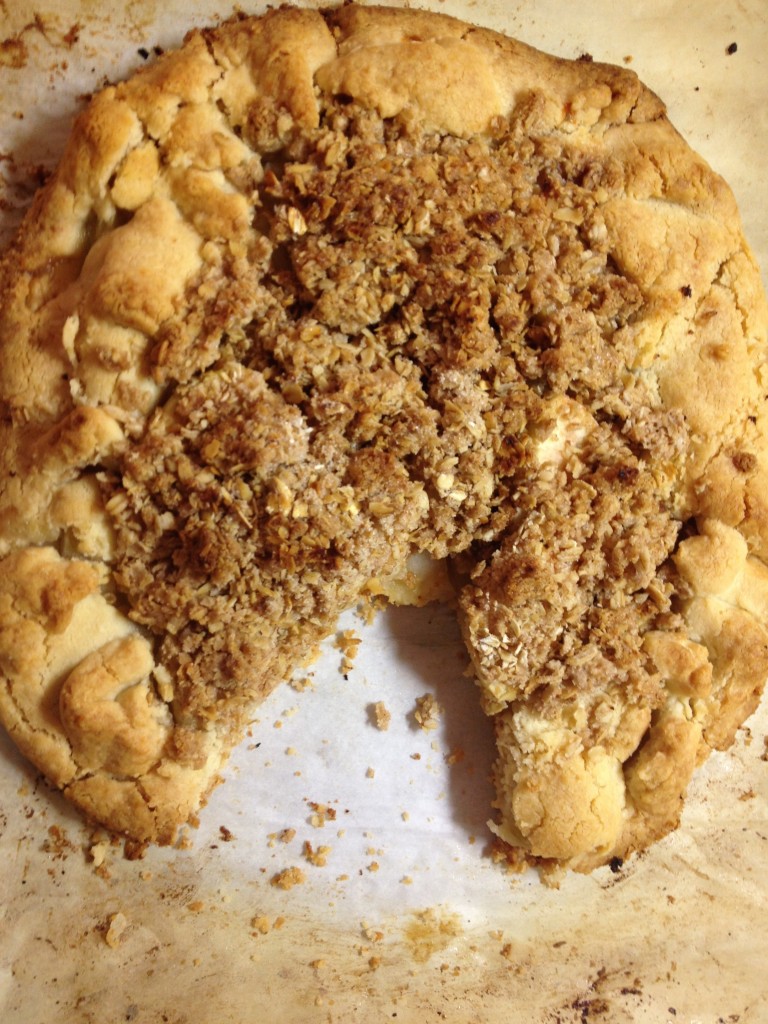 Serves six to eight
For the crust:
2 cups flour, all-purpose
2 tablespoons granulated sugar
1/2 teaspoon salt
1 cup (2 sticks) unsalted butter, cold
For the filling:
About 1 1/2 pounds crisp crunchy apples, peeled, cored, and sliced
Grated zest of one lemon
1/4 cup sugar
1/3 cup old-fashioned oat meal
Pinch salt
1/4 teaspoon cinnamon
Freshly grated nutmeg
3 tablespoons unsalted butter, cold
Few drops of angostura bitters
To prepare:
Preheat the oven 400 degrees F.
For the tart crust: working in the food processor, mix the flour, sugar, and salt together. Cut butter into small pieces, add to the flour mixture and pulse until it is evenly cut into the flour and cookie-type dough forms. Gather into a flattened ball and wrap in plastic wrap and refrigerate about thirty minutes. Roll out between two sheets of parchment or waxed paper and transfer the crust to a large baking sheet lined with parchment paper. Cover with plastic wrap and set aside.
For the filling: Toss the sliced apples with lemon zest and about a teaspoon of sugar if apples are very tart. Arrange the apples on the tart dough, leaving about one and three-quarter inches of uncovered dough on the edges.
Meanwhile, working in the food processor fitted with the steel blade, combine the sugar, oatmeal, salt, cinnamon, and nutmeg together. Add butter and process until the mixture is crumbly. Sprinkle bitters over the apples, then scatter "crumble" mixture over the apples. Fold the edges of the crust up, covering about one-inch of the apples and bake until the crust is golden and the apples are tender, about twenty-five to thirty minutes. (Reduce the temperature if necessary to prevent browning too fast.) Transfer to a rack along with the paper and cool. Cut into serving sized pieces and serve with ice cream or whipped cream. The crust will be crumble easily.