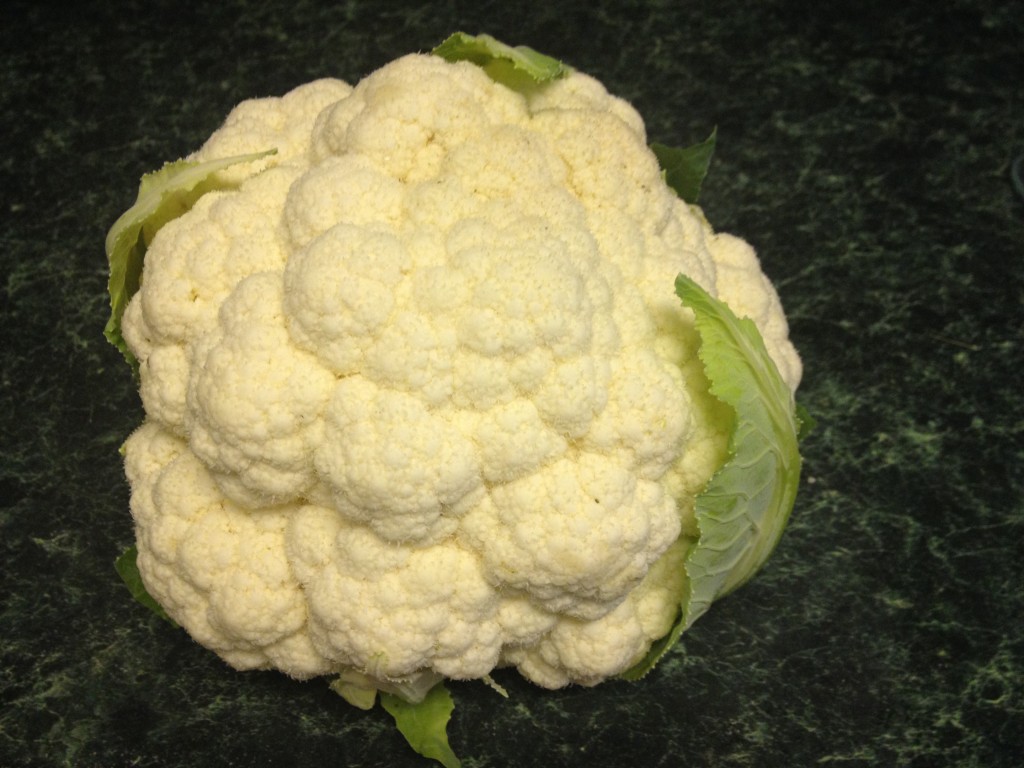 Cauliflower has impressive levels of antioxidants, fiber and vitamin C. It has a great crunchy texture in salads, roasted as a side, or velvety smooth in pureed soups and sauces imparting a creamy texture without cream.
Look for a bright and firm head (white, purple, green or golden) with perky green leaves with no visible signs of brown or yellow spots. Store it in the vegetable drawer of refrigerator.
Slicing raw cauliflower on a benriner is tricky, so use the hand guard. The results are very attractive slices that make this a unique salad to serve those who love raw vegetables. Try the Tuscan (pale green or orange colored) cauliflower for a more colorful dish.
Cauliflower soup is naturally creamy but if you'd like to embellish it with cream, slowly whisk it in towards the end.
The exotic spices of Northern India are intensified during the slow cooking to make this one of my favorite cauliflower dishes. It's a marvelous side dish for roasted or grilled chicken. Bon appetit!
Serves four
1 small or half large head of cauliflower, separated into large florets
1 medium red onion, chopped
About 12 large fresh basil leaves, cut into chiffonade
1 pint small grape tomatoes, washed (halved if large)
1 large clove garlic, minced
6 to 8 sun dried tomatoes in oil, chopped
2 lemons, juiced
1 teaspoon white balsamic vinegar
4 to 6 tablespoons extra virgin olive oil
Sea salt and freshly ground black pepper to taste
To prepare:
Rinse florets and using a benriner or mandoline, place florets on their side and carefully cut into thin slices. Transfer to a mixing bowl and toss with onion, basil, and tomatoes.
Meanwhile, mince garlic and sundried tomatoes together, transfer to a small bowl, whisk in lemon juice and vinegar, and then slowly add the oil whisking constantly until the mixture forms and emulsion. Season with salt and pepper, and drizzle just enough dressing over the cauliflower to coat the vegetables. Taste and adjust the seasonings and serve.
Related Recipes