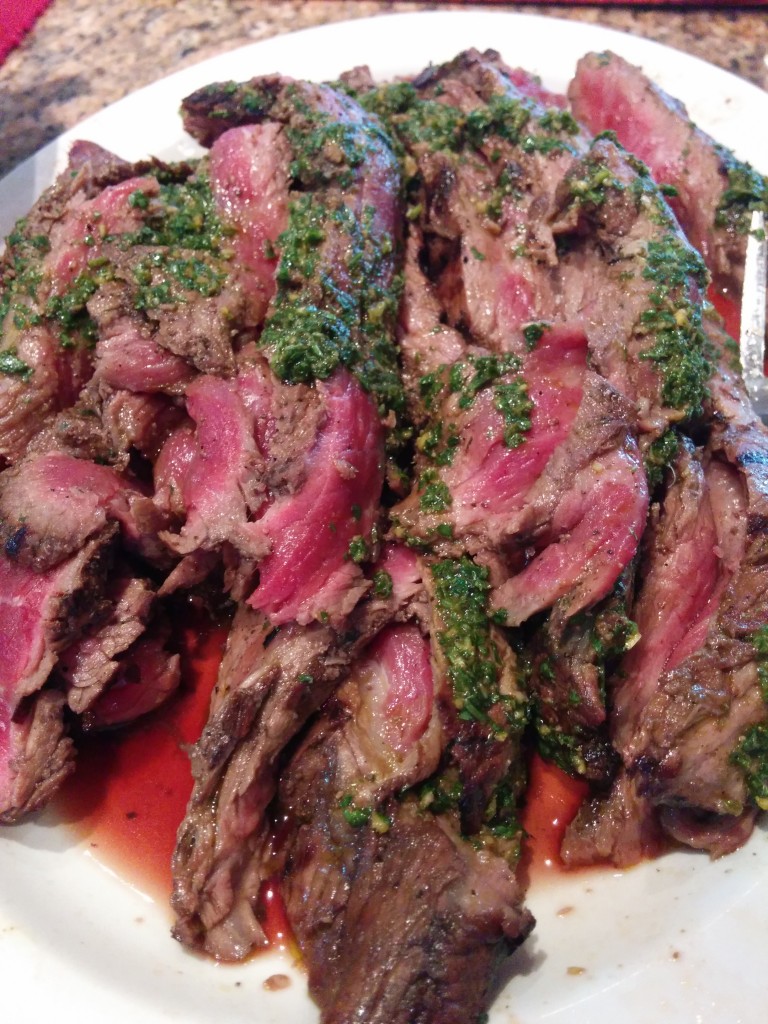 Serves four – with leftovers
1 flank steak, 1/2 inch thick about 1 to 2 pounds – trimmed (Or skirt steak)
For the rub:
4 large cloves garlic, minced
About 1 tablespoon chopped fresh parsley leaves
1/2 to 1 teaspoon cumin
2 teaspoons freshly ground black pepper, or more to taste
Extra virgin olive oil for drizzling
To prepare:
Rinse flank steak under cold water and pat dry with paper towels. Score a diamond pattern about one-eight-inch deep on both sides of steak.
In a mortar and pestle or mini chopper, add garlic, parsley, cumin, and pepper and chop until it forms a paste. Rub the paste into both sides of the meat and place the meat in a zip-lock bag or shallow glass dish, cover with plastic wrap, and refrigerate overnight. Bring to room temperature (about one hour) before grilling.
To grill:
Heat coals until white-hot, brush the grid with oil. Remove steak and discard accumulated juices. Drizzle a few drops of olive oil on the steak to ensure searing action and grill about two to three minutes on each side. (Cooking time depends on the heat of the grill. Warning: The steak must be rare for it to be tender.) Immediately transfer to a carving board, set in a pan to catch the juices and carve, cutting across the grain into thin slices. Arrange the meat on a warm platter, drizzle with accumulated juices and spoon Chimichurri sauce on the hot meat and serve at once. Pass extra sauce at the table.
Related Recipes: