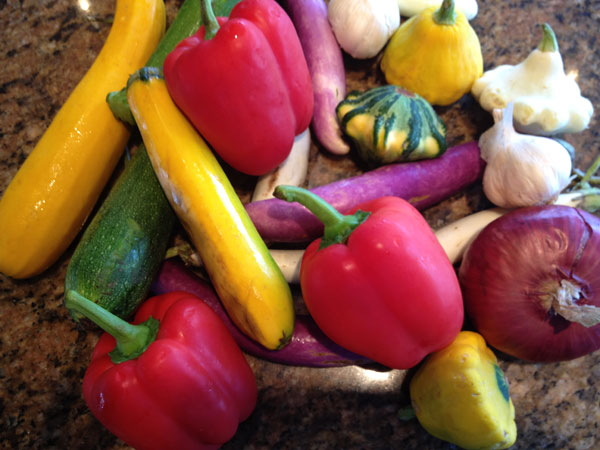 Serves Four
2 medium bright yellow summer squash, scrubbed, trimmed and halved
2 medium zucchini. scrubbed, trimmed and halved
4 or 5 patty pan squash, scrubbed, trimmed, and halved
4 or 5 purple Japanese egg plant, washed and trimmed
4 or 5 white Japanese egg plant, washed and trimmed
1 or 2 red bell peppers, washed, quartered and seeded
1 red onion, halved and peeled
1 head garlic, cloves separated and peeled
Extra virgin olive oil for drizzling
Aged Balsamic vinegar for drizzling
Sea salt and freshly ground black pepper to taste
About 1/2 cup chopped fresh herbs (parsley, basil, chervil, and mint) or your favorite
To prepare:
Preheat the grill until the coals are white hot. Prepare all the vegetables, keeping them large enough so they do not fall through the grid. Place the vegetables on a large baking sheet, drizzle with oil and roll around to completely coat them.
Starting with the firmest vegetable, place them on grid and grill, turning them over until dark grid marks appear on all the sides. Transfer to a cutting board set on a jellyroll pan. Cut or slice each vegetable into bite-sized pieces. Can be done ahead.
Meanwhile: Preheat the oven to 450 degrees F. About forty-five minutes before serving, drizzle balsamic vinegar and olive oil over the vegetables, season with salt and pepper to taste and bake until the vegetables are fork tender or according to personal taste. Transfer each vegetable to a platter when done. Sprinkle with chopped herbs and serve hot or room temperature.
Related Recipes:
Seared Fluke with Lemon and Heirloom Tomatoes
Baby Arugula, Sunflower Seeds and Majool Date Salad Garnished with Lump Crabmeat