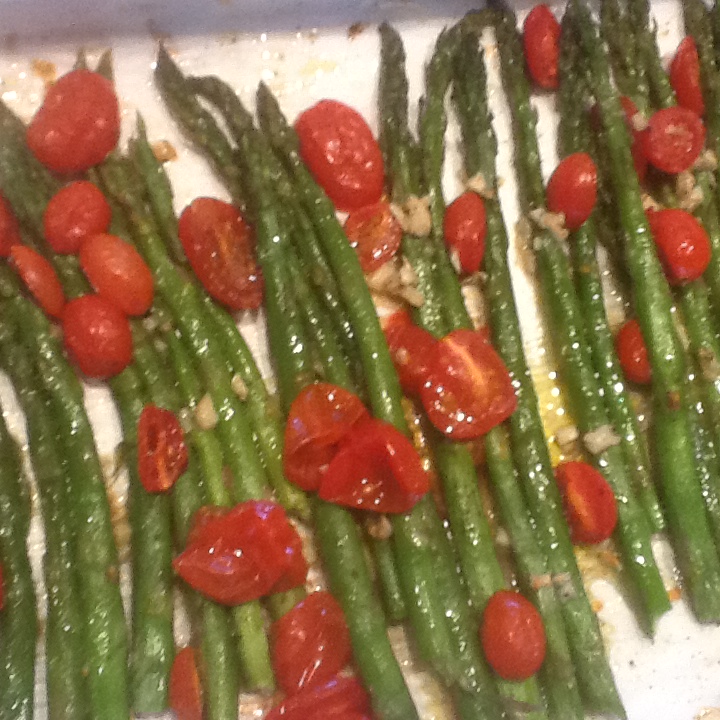 Serves four
1 to 2 pounds fresh asparagus, tough stems trimmed and peeled if necessary
1 box cherry tomatoes, washed and halved
5 to 6 large cloves garlic, minced
Extra virgin olive oil for drizzling
Sea salt and freshly ground black pepper to taste
Few pinches dried basil or thyme
Optional, chopped fresh parsley or basil for garnish
To prepare:
Snap tough ends off the asparagus and cut to trim. If asparagus thick, peel the stems, wash in cold water, and drain.
Line a large baking pan with parchment paper and drizzle oil on the paper. Arrange asparagus in one layer on the pan and roll to coat. Scatter garlic and tomatoes over the asparagus. Drizzle oil and season with salt, pepper, and basil. Can be assembled ahead of time, kept at room temperature until roasting time.
Preheat the oven to 425 degrees F. Roast asparagus until they are tender to the point of a knife, about eight minutes. The roasting time depends on the thickness of the stems.
Transfer to a platter, garnish with fresh herbs, and serve at once. It is equally delicious served at room temperature.
SEE RELATED RECIPES: