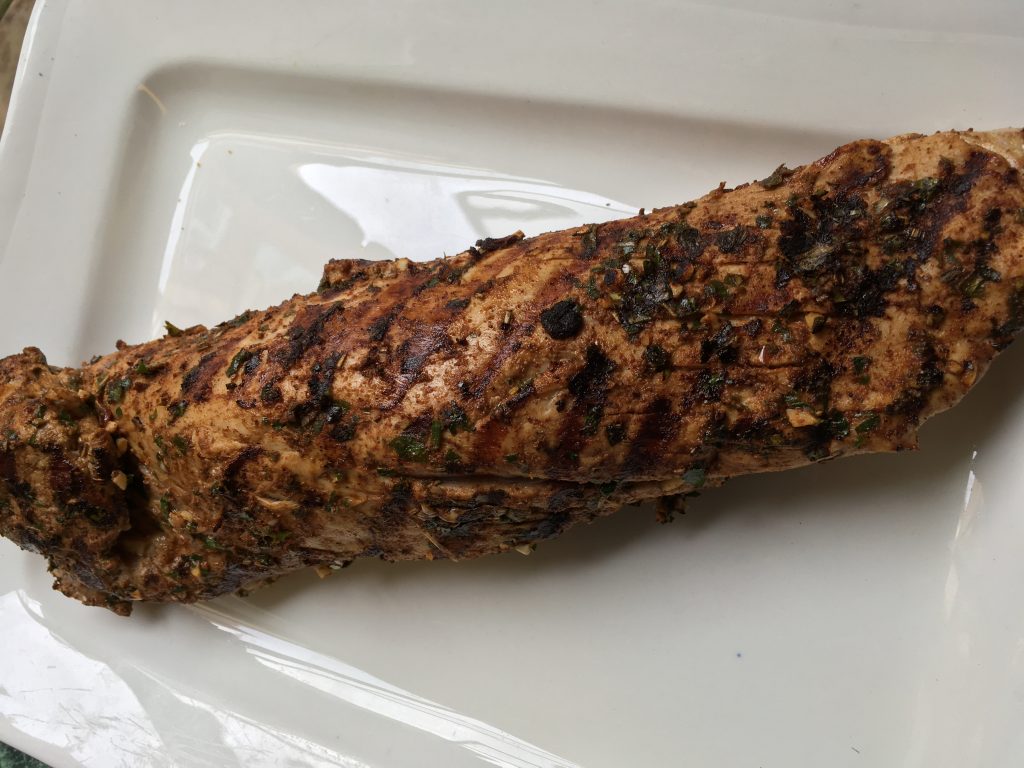 Serves four to six
3 to 4 boneless pork tenderloins (3/4 pound@) or two large tenderloins (1-1/2 pound@)
3 whole cloves garlic, slivered
For the paste/rub:
6 cloves, garlic, minced
2 ancho chili, seeded and ribs removed, chopped
2 jalapeno chilies, seeded and ribs removed, chopped (Or chili powder to taste)
1 or 2 sprigs fresh rosemary, leaves removed, finely chopped
1 small fistful fresh flat leaf parsley leaves, finely chopped
1 teaspoon cumin
1 teaspoon ground cinnamon
1 teaspoon smoked paprika
1 1/2 teaspoons sea salt
Juice of 1 lime
Approximately 1/4 cup extra virgin olive oil to create a paste
To prepare:
In a mixing bowl, combine garlic, ancho and jalapeno chilies, rosemary, parsley, cumin, cinnamon, paprika, and salt together.   Add limejuice and enough olive oil to make a paste.   Meanwhile, trim any excess fat or connective tissue off the tenderloins, pat dry with paper towels.   With the point of a small knife, poke several holes in the pork and insert slivers of garlic. Smear the paste over the entire surface of the meat.   Place tenderloins in a zip lock gallon bags and refrigerate for several hours or overnight (turning the bag every now and then.)
To cook, preheat the grill to high.
Remove the tenderloins and discard any juices in the bag. Place pork on the grid over high heat and grill, turning often about five to seven minutes to sear. Reduce the heat or move the tenderloins to a cooler section of the grill and continue to cook, turning often until an instant-read meat thermometer registers 150-155 Degrees F. in the thickest part, about ten to twelve minutes. It should be juicy and pink on the inside. Transfer tenderloins to a cutting board with a lip to catch the juices and let rest for five minutes.   Cut into slices, arrange on a platter and drizzle the collected juices over the meat.