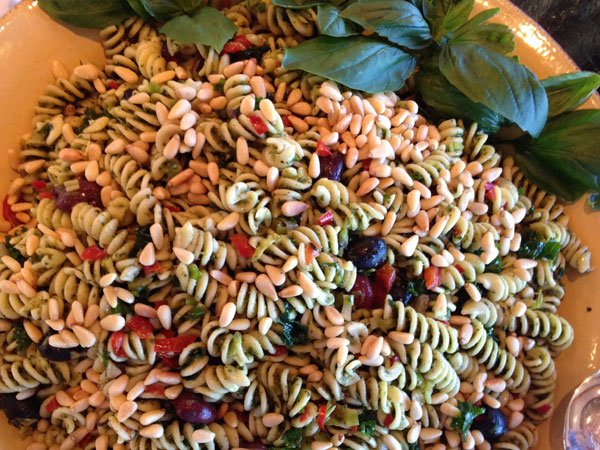 Serves six to eight
2, 1 pound boxes of Fusille pasta (preferably DeCeccio brand)
About 2 cups pesto sauce (made with basil, garlic, parmesan cheese and pine nuts)
1/2 cup of torn kale leaves
1/2 bunch flat leaf parsley leaves
1/2 bunch watercress leaves
2 bunches scallions, trimmed, cut into thin slices
1 large red bell pepper, diced
1 medium purple bell pepper, diced
1 cup pitted Kalamata olives, well drained
1 can small pitted black olives, well drained, left whole
Extra virgin olive oil for drizzling
Sea salt and freshly ground black pepper to taste
2 cups chopped kale (w/o ribs)
About 1/3 cup roughly torn lemon basil leaves
1/2 cup toasted pine nuts for garnish
To prepare:
For the pesto sauce, working in the food processor fitted with the steel blade, add prepared pesto sauce, kale, parsley, and watercress leaves and process until blended. Taste and adjust the seasonings, adding a few drops of olive oil as necessary for proper consistency. Can be made up to one week ahead.
One day ahead, in a large pot of boiling salted water over high heat, add pasta and cook until a'dente or according to directions on the side of the package. Drain well and transfer to a large mixing bowl. Immediately spoon enough pesto sauce over hot pasta and toss well until evenly coated. Stir scallions, bell peppers, and olives into the pasta. Drizzle with oil if necessary, taste and adjust the seasonings. Bring to room temperature, cover with plastic wrap, and refrigerate overnight.
About two hours before serving, add chopped kale and lemon basil and mix well. Taste and season with salt and pepper and scatter pine nuts over the salad and serve at room temperature.
Related Recipes