Carrots are root vegetables belonging to the parsley family with a good amount of vitamin A in every bite. These "ancient – over 2,000 year old) vegetables are best to buy with fresh green tops then cut off the tops and refrigerate. The popular snack packs of "baby carrots" are a good alternative to cookies, but they are NOT young carrots, just regular older carrots that have been "tumbled" to round the edges.
My mother shredded carrots, added lemon juice, sugar, salt and pepper for this salad. I make it with carrot curls, lemon juice, and pepper (no sugar) to give this simple salad uplift.
One evening I needed a salad in a hurry, thus the origin of this chopped carrot and celery salad. It's delicious, economical, and a quick one to serve in a pinch!
Slowly roasting a chicken renders the meat moist and tender under crisp crunchy skin, similar to a rotisserie chicken. The carrots roasted in the pan are naturally infused with chicken juices and wine that automatically becomes a delicious vegetable side dish. Bon appétit!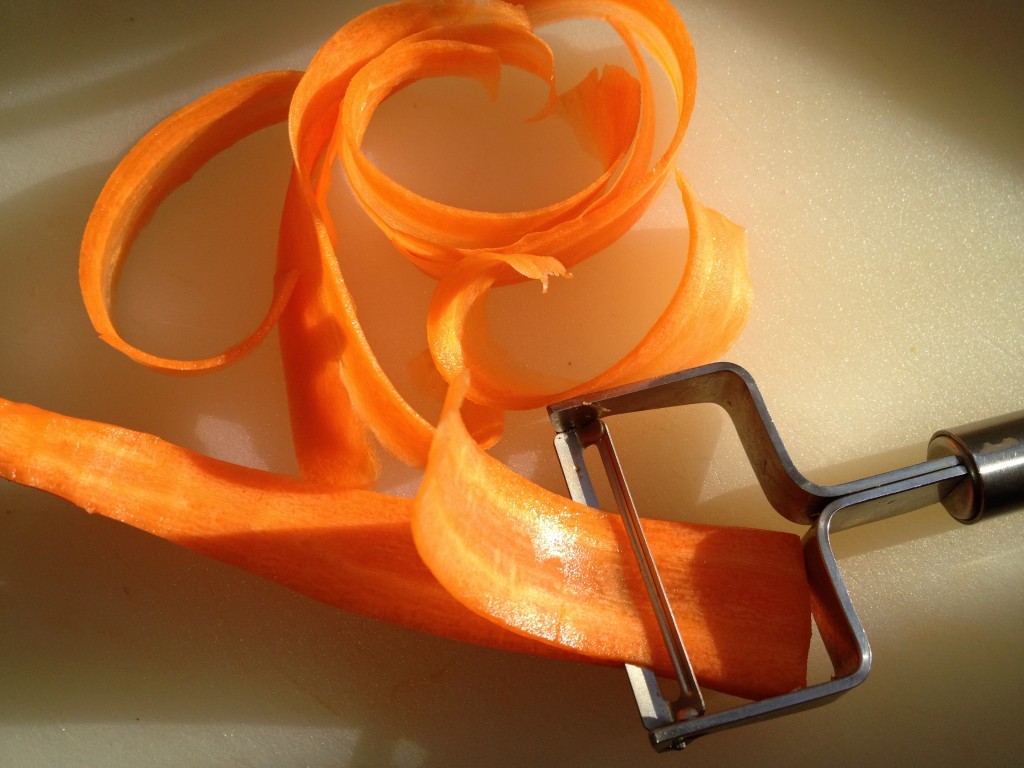 Serves four to six
6 carrots. peeled and washed
2 lemons cut in half
Sea salt and freshly ground black pepper to taste
Chopped fresh flat leaf parsley or dill, for garnish
Optional:
1 orange cut in half, for squeezing
Extra virgin olive oil, for drizzling
To prepare:
Using a vegetable peeler with a swivel head, make long, super thin slices down the length of the carrot to make "ribbons". Place the carrot curls n a bowl and squeeze lemon juice on them, season with salt and pepper, and toss to blend. Taste and adjust the seasonings, adding orange juice if too tart, cover, and refrigerate until serving. To serve, drizzle a few drops of oil on top, toss, and garnish with parsley or dill.
See Related Posts
Slow Roasted Chicken with Carrots & Parsnips
Chopped Carrot and Celery Salad