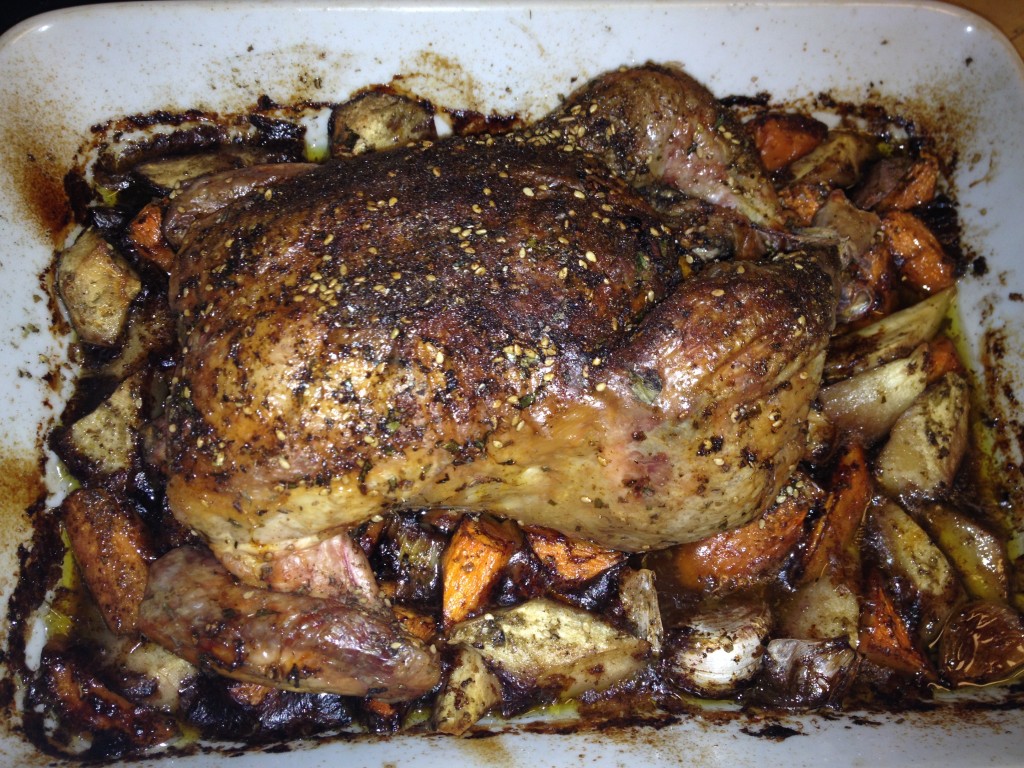 Serves four to six
1, 5 to 7 pound roasting chicken, rinsed and patted dry
Half of a lemon
Coarse sea salt
Seasoning rub:
1 large shallot, chopped
1 small clove garlic, minced
1 tablespoon dried basil
2 teaspoon dried thyme
1 teaspoon Greek oregano
4 to 5 fresh basil leaves, chopped
1 lemon, zest grated and halved
Coarse sea salt and freshly ground black pepper to taste
1 onion, chopped
2 stalks celery, with leaves chopped
12 cloves garlic, whole unpeeled
6 to 7 carrots, peeled and cut into oval/octagonal shapes
2 parsnips, peeled and cut into oval/octagonal shapes
About 1 cup full bodied red wine or chicken stock
To prepare:
Rinse chicken under cold running water, pat dry with paper towels and rub the cavity with the cut side of half a lemon and squeeze juice into it. Season with salt and place a handful of celery and chopped onion in the cavity.
In a small bowl mix shallot, garlic, basil, thyme, oregano, basil, lemon zest, salt and pepper together. Push a pinch of the rub under the skin of the breast, and then rub the entire skin of the chicken with remaining herbs. With cotton kitchen string truss the legs together and tuck the wings under the back of the chicken.
Scatter remaining celery and onion in the bottom of a roasting pan and place the seasoned chicken on top of the vegetables. Cover with plastic wrap and refrigerate for at least four to five hours or up to overnight.
Meanwhile, prepare carrots and parsnips, can be done ahead and refrigerated until roasting time.
To roast, preheat the oven to 250 degrees F. Remove plastic wrap and place the chicken in the center rack of the oven. Roast until the skin is crisp and beginning to brown, about one and one-half hours, then drizzle a few drops of olive oil over the skin, add garlic, carrots, and parsnips to the pan and roast about thirty minutes. Add wine (or stock) and continue roasting, uncovered, until the juices in the thickest part of the thigh run clear when pierced with a two-pronged fork or the internal temperature of the chicken reads 180 degrees F on a meat thermometer, about four hours total. Remove, let stand about ten minutes.
Carve chicken, transfer to warm dinner plates, serve with carrots, and pass au jus at the table. Simply delicious.
See Related Posts
Mom's Lemon Carrot Salad, Updated
Chopped Carrot and Celery Salad