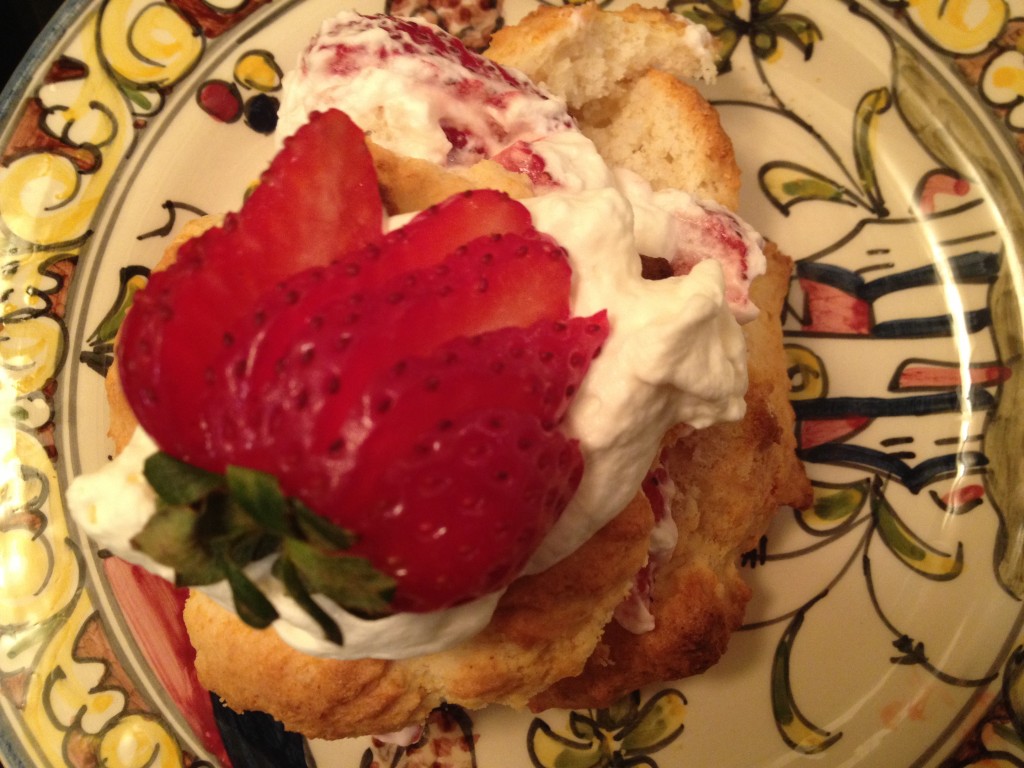 Serves six
For the Biscuits:
2 1/4 cup all purpose flour
1/3 cup sugar
1 1/2 teaspoons baking powder
3/4 teaspoon baking soda
1/4 teaspoon salt
6 tablespoons cold unsalted butter, cut into pieces
2/3 cup buttermilk or more if needed
1 large egg yolk
1 teaspoon pure vanilla extract
For the berries and cream:
2 generous pints ripe fresh strawberries, picked over, hulled, and sliced with a few whole berries for garnish
About 1/4 cup sugar, or more to taste for sweetness
1 1/4 cup heavy cream
1 teaspoon pure vanilla extract
To prepare:
Preheat the oven to 425 degrees F. Place parchment paper on baking sheet.
Working in the bowl of a food processor, add flour, sugar, baking powder, baking soda, and salt and pulse to combine. Add cold butter and pulse until the mixture is crumbly. Transfer the mixture to a bowl. In a measuring cup, whisk buttermilk, egg yolk, and vanilla together until frothy. Pour the liquid in the center of the flour and stir until it becomes manageable dough. (Adding more buttermilk if necessary.) With floured hands form a ball of dough and place it on a floured waxed paper and pat into an even thickness of about three-quarter-inch thick. Cut into three-inch rounds and transfer them to the baking sheet. Gather the scraps of dough and pat out again, working quickly, into biscuit forms. Bake until the biscuits are pale golden, about eleven to fourteen minutes. Do not over bake. Transfer biscuits to a wire rack and cool about ten minutes. If made ahead, wrap biscuits in tea towel and place in turned off a warm oven for five minutes before serving.
While the biscuits are baking, add sugar to taste to the sliced berries.
In a mixing bowl, whip the cream and vanilla until soft peaks form. Fold the berries into two thirds of the whipped cream. Reserve the remaining cream for topping.
To serve: Cut each biscuit in half, place the bottom halves on dessert plates, add a large spoonful of strawberries and cream on each half, then place top of the biscuit on the berries, add whipped cream and garnish with a strawberry.
Related Recipes: