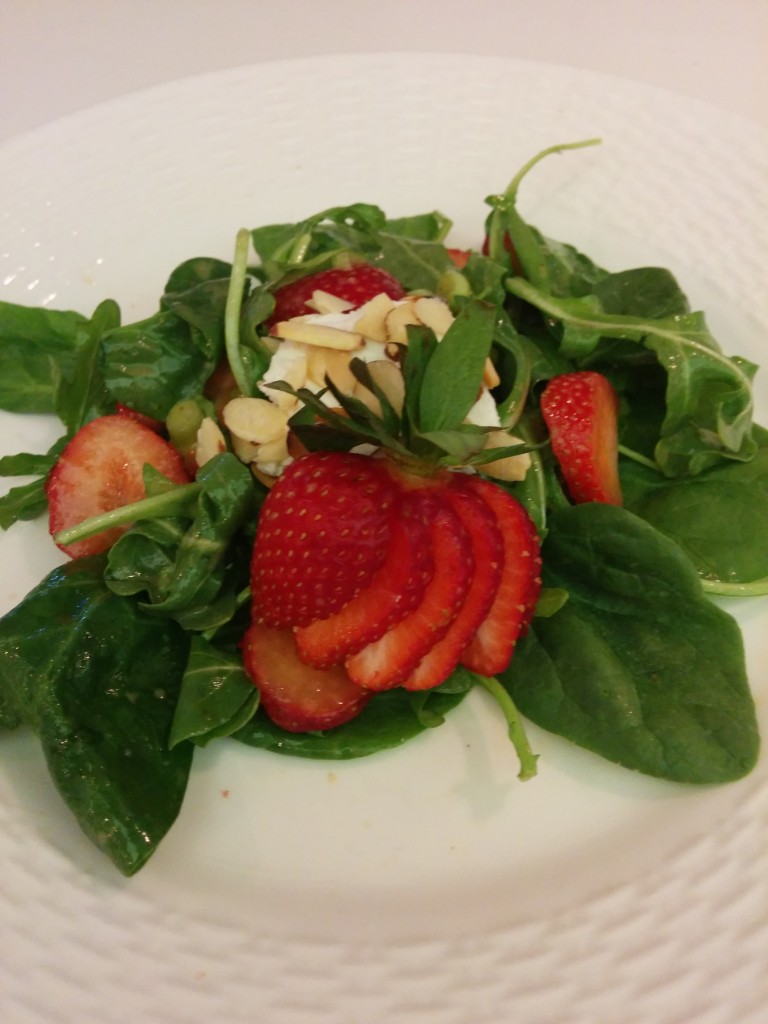 Serves four
4 cups baby spinach leaves, washed and spun dry, stems removed
2 cups baby arugula leaves, washed and spun dry, stems removed
1 small bunch scallions, trimmed and thinly sliced
1/2 cup fresh spearmint leaves, stems discarded
1 pint fresh strawberries, rinsed and patted dry, reserve perfect whole betties for garnish
About 2 ounces plain chevre (goat cheese in a log)
2 ounces sliced almonds, toasted light brown
For the dressing:
1 tablespoon Dijon mustard
1 tablespoon aged sherry wine vinegar
About 1/3 to 1/2 cup extra virgin olive oil
Freshly ground black pepper to taste
Malden salt for finishing
To prepare:
For the vinaigrette: In a small mixing bowl, whisk mustard and vinegar together until blended. Slowly whisk the oil into the mixture until it becomes an emulsion. Season with pepper, taste, and adjust seasonings. Can be done ahead and refrigerated up to two weeks.
For the salad: toss spinach leaves, arugula, mint, and scallions together until well mixed and set aside. Meanwhile, stem and slice strawberries into another bowl and set aside.
Place toasted almonds on a plate. Slice chevre into one-quarter inch thick rounds and roll each slice in the nuts and set aside.
Just before serving, whisk vinaigrette, add strawberries to the greens, drizzle just enough dressing on the salad until the leaves glisten and toss well. Sprinkle with salt if desired. Transfer to salad plates, top with cheese and garnish with whole strawberry, pass extra dressing at the table, and serve at once.
Related Recipes