Latest Recipe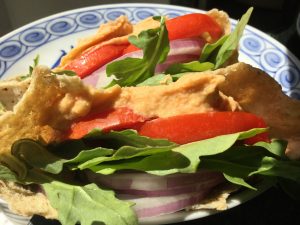 Veggie Whole Wheat Pita Pockets
-
Makes four sandwiches 4 whole-wheat pita pockets 8 to 9 slices ripe, firm, beefsteak tomatoes 8 thin slices medium red onion, halved About 1 cup baby arugula, washed and spun dry 1/3 cup hummus (your favorite brand or homemade) Advance preparation for a pita pocket: Cut the […]
More
Cooking takes you on a journey of the senses. It's the sights, smells and textures that lead to the ultimate destination: luscious tastes.
Come with me and share the experience of wonderful food.
WEEKLY NEWSPAPER FOOD COLUMNIST
"Seasonal Chef" Southampton Press and East Hampton Press with recipes and menus appropriate for each week since 1995. Click here for bi-monthly recipes.
AUTHOR OF EIGHT COOKBOOKS
Princess Tea, Chronicle 2009; Fifty Way To Feed Your Lover, William Morrow, 2000; Brunch Entertaining, Williams Sonoma 1999; Everyday Roasting, Williams Sonoma 1998; The New Meat Lover's Cookbook, Macmillan 1996; Roasts – Orion Little Cookbooks, Orion Publishing Group, UK 1996; Food From An American Farm, Simon & Schuster 1991; Lunches to Go, Barrons 1984.
CURRENTLY WORKING ON NINTH COOKBOOK
More details to be revealed.
PERSONALIZED PRIVATE COOKING CLASSES
The class is for one or two people upon request. The class is usually 3 hours long, either in your kitchen or mine. Click here for more details.
PROFESSIONAL CLASSES
Ms. Sarlin has vast experience of training and working with private chefs on motor yachts and on land teaching cooks, mother's helpers, and household service staff and stewardesses to tailor menus to the tastes and needs of their families. To request Professional Classes call 212-517-8514.
GOURMET CONCIERGE SERVICE
Offering: "Behind the Scene" Service, Cooking Coach, and Executive Dining Room Consultant. Click here for more details.