Latest Recipe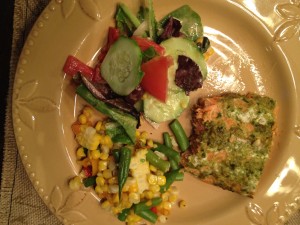 A Midwest feast… That's very do-able on the East End of Long Island.
-
I've just returned from the Midwest where the corn was literally "as high as an elephant's eye." And there is plenty of it! We ate grilled corn on the cob nearly every evening, as we do here on the East End. My cousins, Judd and Tracey and […]
More
Cooking takes you on a journey of the senses. It's the sights, smells and textures that lead to the ultimate destination: luscious tastes.
Come with me and share the experience of wonderful food.
Cooking Classes Are Now Available on Demand
2014 Cooking Class Rates:
Special event group cooking classes Monday — Friday, $150 – $165 per person.
Special event group cooking classes Saturday or Sunday, $165 – $180 per person.
Private cooking lessons Monday — Friday, $350 per person, Saturday or Sunday $450.
Gift Certificates are available.
Please inquire about our Corporate Team Building Events, $155 – $175 per person.
Are you looking for ways to enhance your skills that will have you creating delectable meals? Sign up for a class filled with techniques, economic tips, and secrets of succulent seasonal foods.
For Special Event Classes the days are flexible. Please call 212-517-8514 for more information and to make a reservation.
Bon appetit!
Janeen Sarlin
To register for classes or
inquire about this season's menus,
email me at: sarlin@sarlincookingwithclass.com
or call: (212) 517-8514