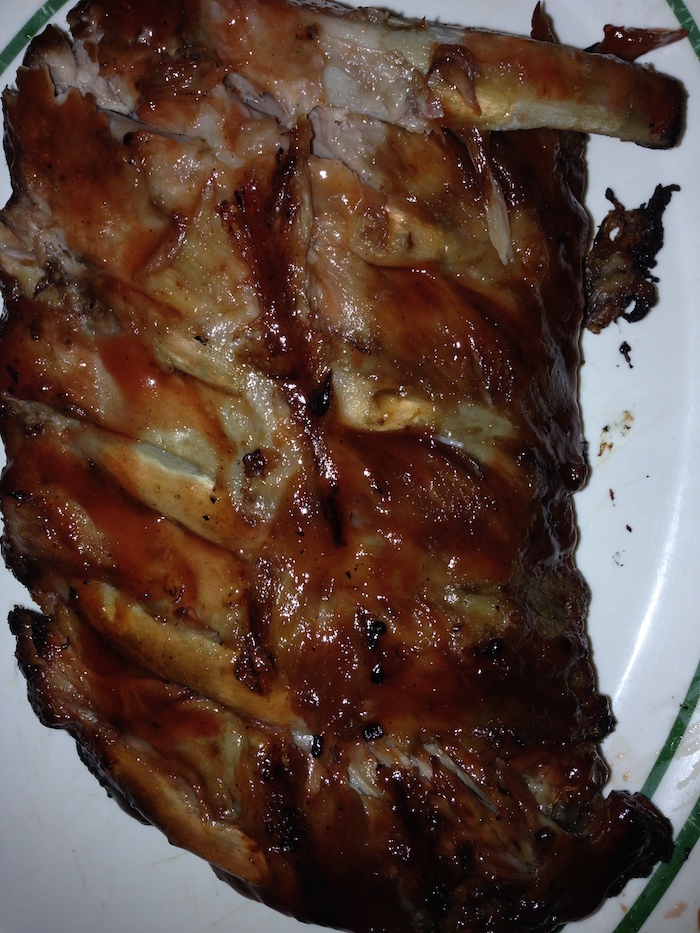 Memorial day weekend formally begins the "summer season" along with officially opening up the deck or back yard for outdoor alfresco cooking-dining. If your tradition warrants hot dogs and hamburgers on the menu, by all means continue it. However, if you are in the mood to either change or add to it, why not make lip-smacking-finger-licking baby back ribs? (with a Barbeque Sauce that's adapted from Charleston's famous food personality, my friend Natalie Dupree, a Southern food expert, cookbook author and TV cooking show host). Add liquid smoke to the sauce if you like a smoky taste. Here's another fine idea, eschew the baked beans and serve French potato salad to accompany the typical coleslaw.
You ask what's for dessert? Every one from one to ninety-one loves old-fashioned S'mores! Include some dark chocolate bars with Hershey bars for those who prefer that rich taste. Happy Memorial Day and Bon appétit!
Serves six to eight
4 whole racks of baby back ribs
For the dry rub:
2 teaspoons sea salt
3 tablespoons smoked paprika
1 tablespoon freshly ground black pepper or to taste
1 teaspoon dry mustard
3 tablespoons dark brown sugar
For the BBQ sauce:
About 2 tablespoons olive oil
1 medium onion, finely chopped
3 cloves garlic, minced
1 bay leaf, crumbled
2 cups ketchup
3/4 cup old-fashioned coke
1 tablespoon Worcestershire sauce
1 tablespoon prepared mustard
1 tablespoon apple cider vinegar
1 teaspoon freshly ground black pepper
Optional:
Two pinches red pepper flakes
1/4 teaspoon to 2 tablespoons Liquid smoke or according to taste
To prepare the BBQ sauce: makes about 1 1/2 cups, can be done up to one month ahead
In saucepan over medium heat, add oil and sauté the onion and garlic until soft. Stir in bay leaf, ketchup, coke, Worcestershire sauce, mustard and vinegar. Add pepper and bring to a boil. REDUCE the heat and simmer uncovered stirring occasionally until the sauce is thickened somewhat, about one hour. Taste and adjust the seasonings with red pepper flakes or liquid smoke. Cool to room temperature, transfer to a clean glass jar and refrigerate. Can be scaled up for larger quantities.
To prepare the ribs:
In a small bowl, combine the salt, paprika, pepper, mustard, and sugar. Line a baking pan with double layer of aluminum foil and then a layer of parchment paper. Pat the ribs dry with paper towels. With a paring knife make small slits in the membrane on backside of the ribs. Rub the spice mixture over both sides of the ribs. Arrange the racks, meaty side down in the prepared pan. Cover with foil, sealing the edges tightly and refrigerate for four hours or overnight. Remove the ribs from the refrigerator and bring to room temperature about thirty minutes before baking.
Preheat the oven to 250 degrees F. Place ribs in oven and bake for two hours. Remove pan; pour off fat accumulated in the bottom of the pan. Turn meat side up and bake uncovered for fifteen minutes.
To grill or bake:
Preheat the grill until the coals are white hot. Place the ribs on oiled rack and slather the BBQ sauce over the ribs. Grill, turning and brushing the ribs with the sauce often until they are heated through, browned, and glazed, about fifteen to twenty minutes. Or to bake; increase the temperature to 350 degrees F. Turn the meaty side up in the pan, slather with sauce and bake for fifteen to twenty minutes. Repeat the slathering/brushing with more sauce about four to five more times, until ribs are completely glazed and meat nearly falling off the bones. Transfer ribs to cutting board, cut into serving sized portions, drizzle more sauce over top, and serve. Pass extra sauce at the table along with hot wet washcloths for washing face and fingers.
Related Posts