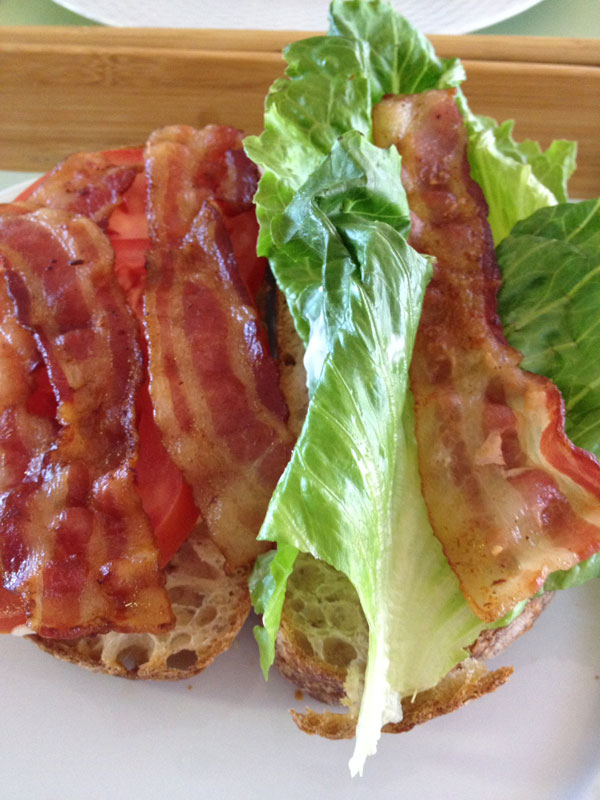 Four Sandwiches
About 16 to 18 crisp bacon slices, patted dry
8 thick slices crusty Tuscan bread, lightly toasted
Unsalted butter, to taste
Mayonnaise to taste
8 Romaine leaves, washed and trimmed to fit the bread
1 or 2 large firm ripe tomatoes, sliced thin
Option: 4 slices roast turkey breast
To prepare:
In a large skillet over moderate high heat, fry bacon until crisp on both sides, and transfer to paper towel lined plate and pat dry with more paper towels, and set aside.
Toast bread until light brown, spread with a thin layer of butter. Top both slices of bread with a lettuce leaf, add mayonnaise, tomato, and bacon on one side. Add (turkey if using) and bacon on the other side and serve open faced.
If toting this sandwich, place each component in separate bags and assemble it just before serving.
Herb Crusted Seared Tuna, Avocado, with Herb, Sundried Tomato, and Caper Relish on Toasted Brioche Roll
Roast Chicken Breast, Red Onion, and Dill Pickles on Seded Rye
Aged Gouda Cheese, Red Bell Pepper, and Onion